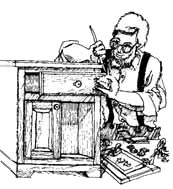 LIFETIME WARRANTY


We take great pride in the workmanship of our craftsmen and it is with this pride and confidence that we back each piece with a Lifetime Guarantee. You will need to register with us as the original owner of Amish Heritage Furniture items. Should the properly maintained* furniture fail at any time during the ownership and lifetime or the original owner because of workmanship, not because of normal use, misuse, neglect or abuse, or exposure to extreme heat, cold, or humidity; we will either repair it or replace it upon our discretion. We believe strongly in the integrity of our workmanship, and we guarantee our properly maintained* furniture for life.




Important:

*Your proper care and maintenance as described within

"How To Properly Maintain Your Amsih Heritage Furniture"
is a condition of your Lifetime Warranty.''

This warranty does not apply to any damage in transit or any defect resulting from neglect, abuse, accident,
or alterations or repairs by anyone other than an authorized factory representative.



This warranty applies to "in home" (non-commercial) use only.